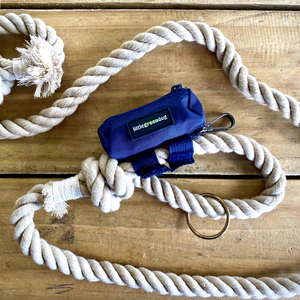 Poo Pod
Sale price Price $15.99 Regular price
Tax included.
The Little Green Dog Poo Pod is NZ's first poop bag dispenser made from recycled plastic drink bottles. Each Poo Pod contains around five Coke bottles' worth of polyethylene and transforms a waste product into something long-lasting and useful.
Designed specifically for our Little Green Dog home-compostable rolls, each holder features two attachment options — a pair of velcro straps that secure it to almost any lead and a metal clasp for clipping onto something like a belt or key ring. A zip along the length of the pod makes for easy roll-feeding, and a tiny pocket on the inside can conveniently hold a house key or similar.
Just bigger than a bag roll itself, the Poo Pod is a lightweight, super-compact tool in your quest to make the world a little bit greener.
Size: 6.5cm long x 3cm diameter
Subscription options available.