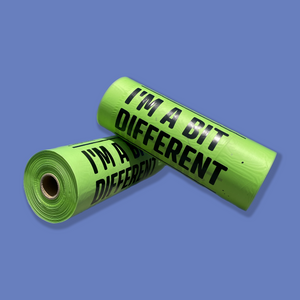 Compostable Poop Bags Bulk Rolls
Sale price Price $59.99 Regular price
Tax included.
⭐⭐⭐⭐⭐ - rated 5 stars on Facebook
Got a serious need for poop bags? The LGD Bulk Roll gives you the best value with a huge 300 x bags on a single roll. Best used in areas where there's lots of poop as these bags are unfolded they're designed to be torn off and used nearby rather than carried with you like the smaller rolls.
Extra strong & extra thick

Leakproof & large (32cm x 22cm)

Made from 40% plant material and will not degrade into microplastics

100% Kiwi owned business


Little Green Dog believe in showing our Earth the same love and care we show our fur kids. Long story short: most of those biodegradable bags you see on shelves aren't environmentally friendly at all. Instead, they're made of plastic — with additives that break down the big chunks of packaging but leave behind microplastics that ruin our planet. Little Green Dog provides New Zealand dog owners with a truly green alternative: fully biodegradable, 100%-home-compostable, poop bags made from 40% plant material so you can clean up after your pup without sh*tting on the environment.

Subscription options available.